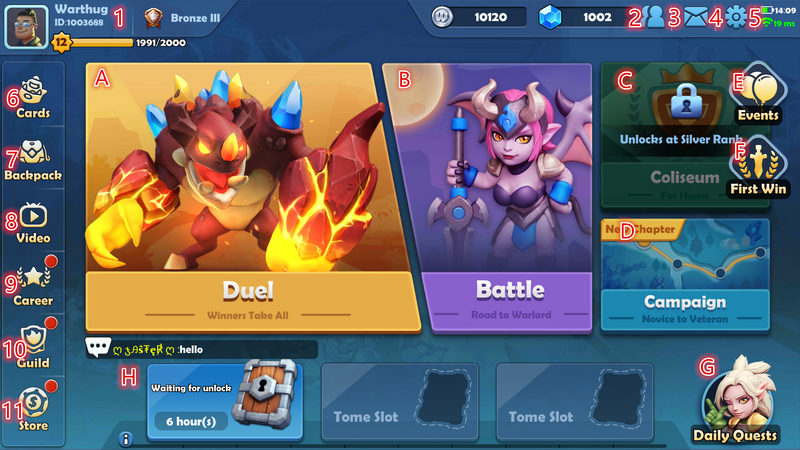 Function Screen Edit
1.  Player info: Check your player information
2.  Friends: Add friends and send messages
3.  Mail: Receive system mail
4.  Settings: Edit basic game settings and match shortcuts
5.  Phone info: Battery, time & pings
6.  Cards: Check card information
7.  Backpack: Check obtained items
8.  Video:
a)  Battle replay: Check previous battle information and videos
b)  Highlights: Check our highlight battle information and videos
9.  Career:
a)  Progression: Receive rewards and tasks once certain levels are reached
b)  Achievement: Receive rewards for meeting certain conditions
10. Guild: Can start or join a guild
11. Store: Buy and use items
Gameplay Interface Edit
A.  Duel: Real-time battles, Casual 1V1, Casual 3V3 or Practise modes
B.   Battle: Randomly matched real-time 3V3 battles. 'Individual' or 'with friends' matching
C.   Coliseum: Randomly matched real-time 1V1 battles, whereby all units are set to the same level.
D.   Adventure: Receive rewards for PVE quests
E.   Events: Check and participate in events, receiving rewards for their completion
F.   First Win: Receive a once per day reward for winning a match (resets at midnight)
G.  Daily Tasks: Receive rewards for completing tasks
H.  Tome Spaces: Players receive a tome after obtaining a set number of points, being able to hold up to three tomes at a time, which can be opened over a set period of time or immediately for gems. They contain silver coins and cards
Community content is available under
CC-BY-SA
unless otherwise noted.