1. Guild not yet joined/Guild creation screen
***Guild not yet joined screencap***
a)  Joining a guild: Upon entering the guild screen, players will see 4 guilds displayed, from which they can choose one to join
b)  Create a guild: By spending *** gems, players can create their own guild, and choose their guild's name, emblem, and country flag
c)  Guild search: Players can use a guild ID to search for the guild they would like to join
2.  Guild already joined/created screen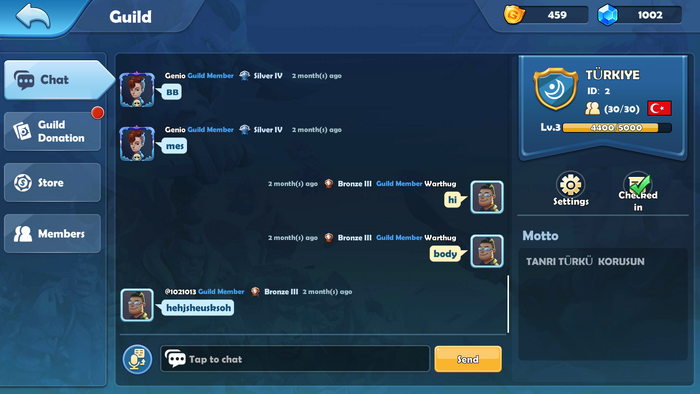 a) Basic guild info screen:
i.  Basic guild info: includes emblem, name, ID, country, member numbers, level, experience
ii. Settings: Can change basic guild info
iii. Applications: Accept/Reject guild joining applications (only visible to guild leader)
iv. Check in: Check in to receive guild store coins (once daily)
b) Currencies: Displays currently available guild coins and gems
c) Chat: Guild members can chat with each other on this screen
d) Guild Donation: Guild members can donate and request the donation of cards on this screen
e) Store: Players can use their guild coins to buy items
f) Members: See other guild members info
i. Member management: Leaders can kick people from the guild, or transfer ownership of the guild to someone else
3. How to level your guild up:
a)  Every time a guild member wins or draws in a match, the guild gains experience points
i. Win: +10 guild experience per member per match
ii. Draw: +3 guild experience per member per match
iii. Lose: +0 guild experience per member per match
b) Once the experience required to level up is obtained, the guild will level itself up automatically
Community content is available under
CC-BY-SA
unless otherwise noted.