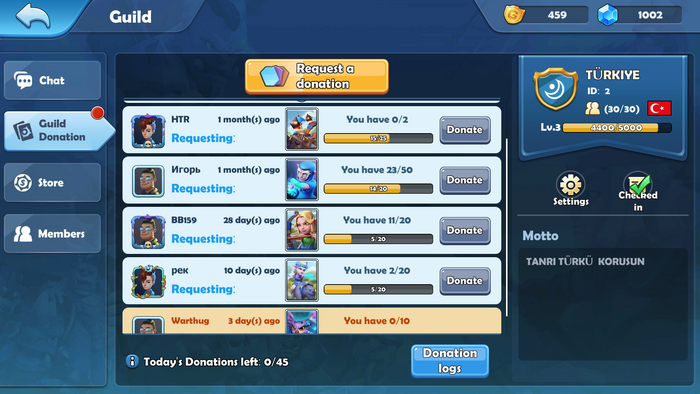 1.  Guild Donation Screen Explanation
a) Player avatar: Shows player's current avatar
b) Player username: Show's player's current username
c)  Player rank: Shows player's current rank
d)  Request send time: Time since request was made
e)  Currently requested card:
i.  Card image
ii. Card grade: White/Blue/Purple/Orange
iii. Donations received: Amount received/Total amount receivable
2. Donation logs
a) Donation logs button: Tap to open the donation logs window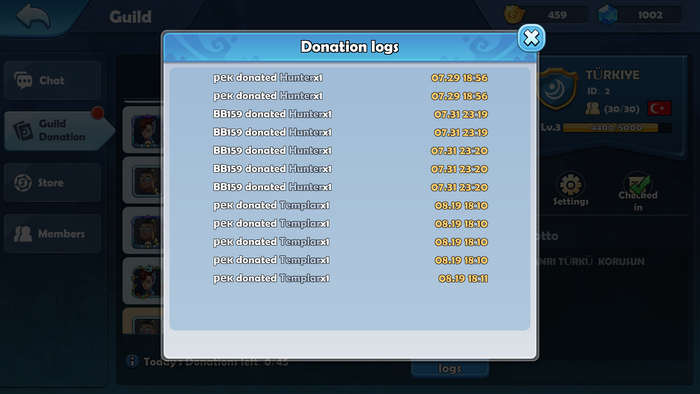 a)  Donator: Shows donator username
b)  Donated card name: Shows name of donated card
c)  Donation amount: Shows amount of cards donated
d)  Donation time: Shows time donation was made (MM.DD HH:MM)
e)  Close button: Tap the close button to close the window
f)   Log record timeframe: All donations made within the previous 24 hours
2.  Request a donation function
a)  Request a donation button: Tap to go to the donation request screen
a) Card selection: Players can only request cards they've already unlocked themselves 
Community content is available under
CC-BY-SA
unless otherwise noted.